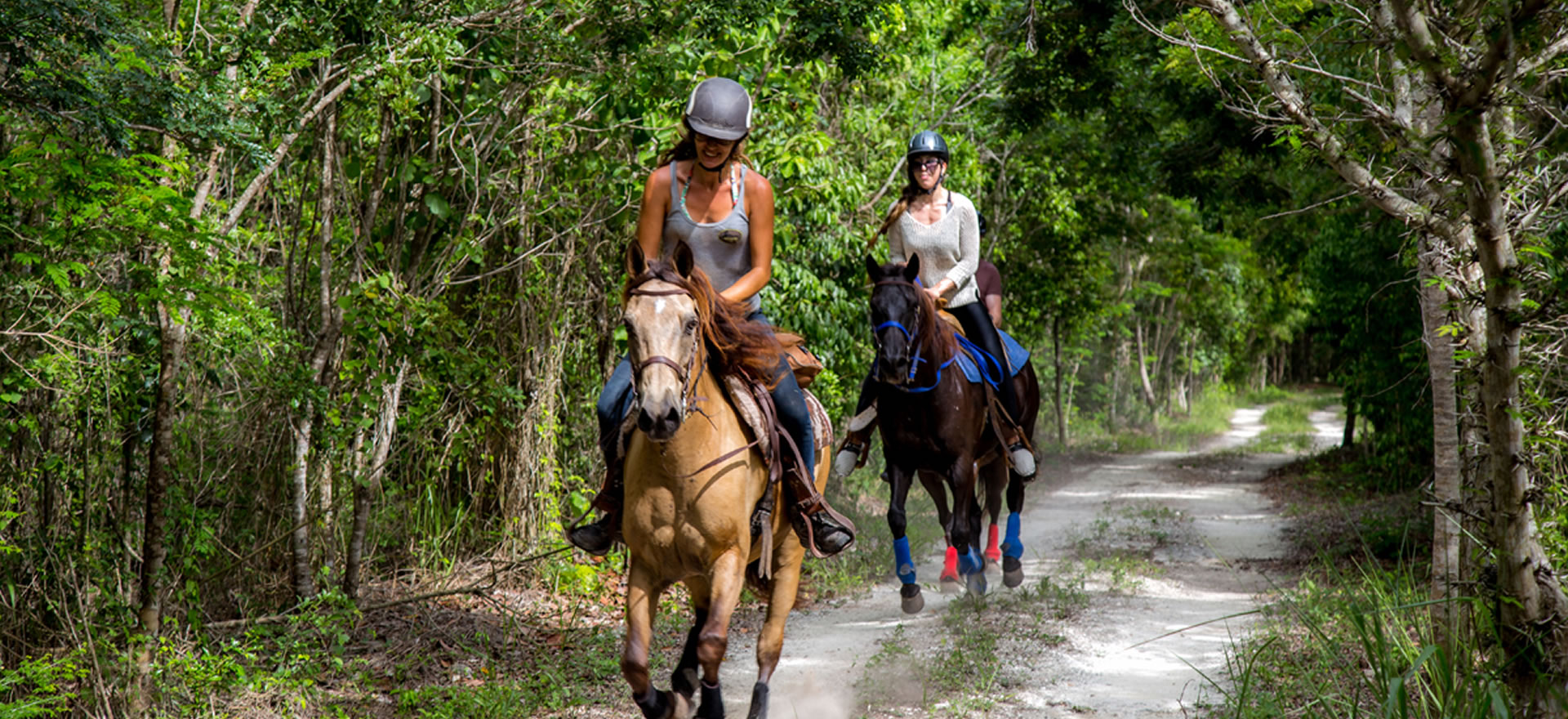 After 8 years at our old beach location, we moved at the end of 2015 to a brand-new location, with 400 acres of beautiful fairytale jungle with tons of trails, sinkholes and amazing wildlife just for the Rancho Baaxal Family. This is the Yucatan peninsula at its best, and we want to share it with you and create lasting memories to cherish forever. We ride on private property, in one of the few undeveloped areas along the Riviera Maya.
Rides are offered Monday to Saturday at 9:30am or 2:00pm.
Our horses rest on Sundays.
$85 US per person
Our Classic rides (with a maximum of 6 riders), last for 1.5 hours and include coffee, tea, or juice and pastries or beer/wine and light snacks. Cold water will also be provided during the ride.
Come early and start off your adventure enjoying coffee and pastries amidst citrus trees and horses.
Or, join an afternoon ride and stay for an ice-cold beer or a glass of wine and some snacks, to unwind after exploring our wonderland on horseback.
Prefer more privacy? Book a Private Classic ride starting at only $25 US extra per person (minimum 2 guests). 
$130 US per person (minimum 2 guests)
$110 US per person (3 guests)
$135 US per person (1 guest; price applicable only for experienced riders)
Special offer: Book for 4 riders and get a private ride at no extra cost.
$130 US per person and up*
Want more luxury? Upgrade your tour to a Deluxe ride and enjoy a 2-2.5 hour long adventure with a personalized surprise setup with a gourmet picnic at one of our secret hideaways. (Different options available; such as Wine & Cheese, Strawberries & Champagne, Vegan Feast, etc.). This is the perfect option for any special occasion (birthday, engagement, bachelorette party) or if you just want to treat yourselves to something unique.
Price examples:
2 guests - $390 US (195 per person)
3 guests - $495 US (165 per person)
4 guests - $600 US (150 per person)
5 guests - $700 US (140 per person)
6 guests - $780 US (130 per person)
*Price applicable for our most requested Deluxe Rides, such as Wine & Cheese.
Due to the size of our operation, we are able to customize the tours in many different ways – doing longer rides, arranging a birthday cake at the ranch, teambuilding experiences, theme rides, etc. The options are endless.
We are the perfect choice for those looking for something out of the ordinary and more exclusive. Our highly educated and knowledgeable staff members, who speak 8 languages in total, provide unparalleled service and will always go that extra mile to make our guests happy.
Lisa, the ranch owner, has worked for around 30+ years in the hospitality business, as a wedding and event planner, a concierge at luxury hotels, a flight attendant, etc. and pays extreme attention to details, which means you can rest assured that nothing will be overlooked when you book a ride or an event with us.
Some examples of what we can arrange for you:
Engagement - surprise that special someone with a ring, a bottle of champagne and rose petals in the jungle
Anniversaries or birthdays - celebrate with a cheese and fruit platter and a bottle of wine at one of our secret locations in the jungle, or let us arrange a real ranch-style barbecue for you and your guests
Photo shoots - Trash the Dress, Fashion shoots, magazine articles and more